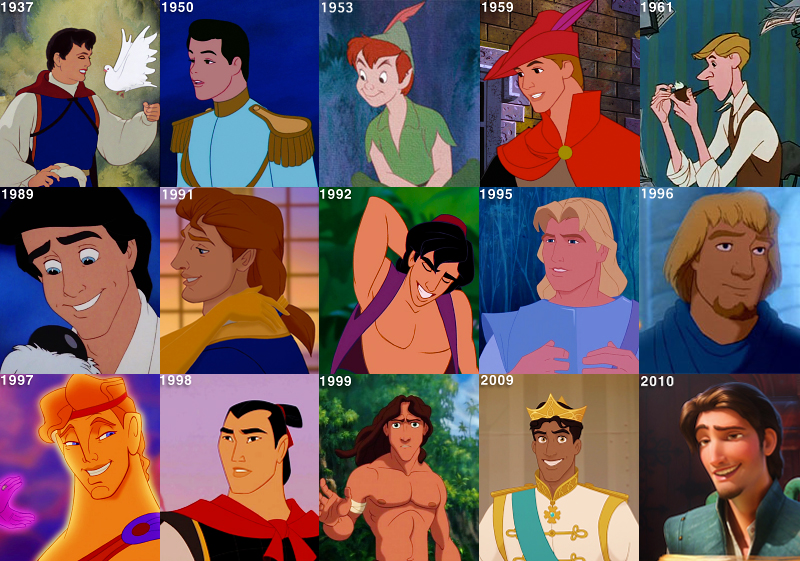 WARNING: I try to be fairly gender neutral when it comes to raising my son or children in general, but this has been kind of bugging me for a while now and needed to be said. This will (hopefully) be the most gender biased post I ever make. Don't judge.
Of these Disney men (and insert the gentlemen from Frozen, won't make an ounce of difference), how many were actually the star of their respective movies. Don't forget to include Pinocchio, Robin Hood, and The Jungle Book. When you get right down to it, there are only 8 or so male characters out of ALL of the Disney movies in which the Main Character/Protagonist was a male. Pixar doesn't count.
There is a lot of hub-bub about how the entertainment industry is shunning, shaming, and degrading women. As a woman myself, I get it. Now that I'm in my 30's, it does kind of resonate with me that actresses in their 30's are getting snubbed for "Wife" or Romantic roles to actors who are still going strong in their 40's, 50's, and even 60's! Keep in mind, Maggie Gillenhal had raised a HUGE and SCATHING point when she was recently snubbed for a role in a movie because she was too "old" to play the role of a wife to a 40-50ish year old man. She, herself is in her late 30's. I'm 34 (as of the time this was written) and the thought of being married to a man 40 or older creeps me the heck out!
Having said this, and if it wasn't for the point that I am the proud owner of a boy, I have noticed that Disney has very much the opposite problem. Now, we all have our favorite Disney movie and there are very few I don't like, I do want to say this: Why are there so many Disney Princesses headlining and stealing the show of their respective movies, but when it comes to the boys/princes, they are either severely overshadowed, or cast as someone kind of douchey? Seriously, think about it...
Aladdin: The movie was based on HIS STORY, but he's a criminal, lies to get his way in the door, and is rewarded for it in the end (because, you know. He learned from it.)
Peter Pan: The movie is about him but he's a little jerk to pirates, doesn't care for the safety of the kids he just up and took with him, and...well, read the story.
Pinocchio: He ran away from home but when he reunites with his dad Jonah Style, it's like Pinocchio never did anything wrong.
And then there are the movies that have come out since the 1990's when Ariel came onto the scene and pretty much made it a precedent that all Disney Movies be more about the princesses than anything. Seriously, we're at the point now where we're asking "So what's the next Disney Princess going to be like this time?" "What is she going to look like?" "Which princess fairy tale will they use?" These are things that are now starting to bother me now that I have a son.
It's great that all these princesses coming out are showing how strong girls can be and that they can do anything they put their minds to, but it's coming at the cost of boys and how they see themselves. Yeah, I know Pixar (Disney's sister company) is filling in the boy gap for them, but it's not the same. I feel like Disney needs to start evening-out this ratio of Heroines to Heroes when it comes to main characters. Yes, the money is in the little girl demographic, with the sale of dolls, clothing, and other merchandise to drive insane even the most patient of parents, but what is there Disney is doing for boys? Sure, Olaf is cute-ish. But you can just slap a picture of Cristof on a shirt for boys and say "Here! Bet you'll feel cool in this!" It just doesn't work like that. We all know "Frozen" by heart and it's permanently branded as a chick flick for young girls. I dare you to make manly a set of "Tangled" underwear for boys and see how many parents of sons will apt to purchase them.
Our boys are in a huge dire need for age appropriate role-modles, real and fictional. If ever we want to correct "rape-culture", gender-inequality, and male entitlement, we need to start creating more male role-modles to relflect this desire and need for young gentlemen again. I want my boy to open doors for girls, say "Ladies First", and never hit a female of any type. I want him to know his please and thank-yous, compliment a lady with dignity and tact, and above all, value women as himself. I say all this with quite a bit of certainty that my son is straight, especially since he has stated quite firmly what ladies he's seen on TV that he loves and wants to marry. Like seriously. It's sometimes heart breaking the feels he expresses. He also likes them with a bit of meat on them. Never thought that would be a preference for him. But makes this big momma kinda proud *wink*
So Disney, until you can start giving us some proper Disney Princes again, my money is going to start going to Dream Works. Lord knows Shrek was more of a Prince & Gentlemen as an Ogre than Flynn, Hans, Aladdin, or any of the rest ever were to their Princesses.
and a better Dad, to boot.